Introduction
Starting a Shopify store for the first time is such a good experience. But, before starting your online business you need to know 6 Shopify tips that will help you to create a better online store. This blog article will see how these basic 6 Shopify tips will master you to focus on the right stuff and help you to set up for success.
6 Shopify tips that all the new store owners need to know:-
1. Remove logos with the draw tool
Use Shopify to draw on your product photos. Use this feature to remove logos from your photos. However, not all the photos will have a logo on the plain white background side. Some logos will be placed on the photos also. In that case, the choose color code by color picker so you can match and draw on the exact color. The easiest way to know the exact color code is by using a chrome extension called ColorZilla. It allows you to hover and capture the exact color code and let you remove logos on photos with colored backgrounds.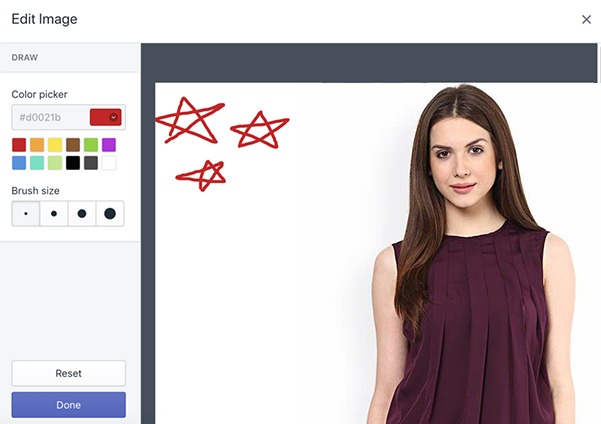 2. Add all your policies to the footer
One of the biggest mistakes that the new owners do is, they forget to add policies to their websites. Often customers browse websites to ensure the return policies for refund in case of defective products. Fortunately, this helps in building trust. However, you don't need to create your policies from scratch. You just need to modify the one's in your Shopify admin and need to follow them accordingly.
3. Update your product inventory monthly
You know how easy it will be for you to add all the products at once but it will not help you to succeed by doing this. If you want to succeed then focus on a smaller batch first. Focus on adding less than 25 products to your online store on your first day. Post and update your website regularly and never repost any product. Posting products every week or every month and updating your website regularly will start generating traffic to your website as google crawlers will be aware of it.
Advertisements
4. Promote on free channels if you don't have the budget
Most of the people who start an online store for the first time to earn money have low budgets. So, regarding that, you need to know that where to spend the money. You can create Facebook ads or add a Facebook pixel to your website. Now, if you don't want to spend money and want to generate free traffic to your website, you can go to Pinterest and post lots of products on your account or post on your Instagram and your story there. If you have created blog content for your website, you can share those on Twitter.
5. Install ready-made products on your store
If you are a new owner and have just signed up for Shopify then you might not know what to sell. You can sell your own unique products that you have created yourselves or like other online retailers, you can purchase bulk products at wholesale prices. You can also create print-on-demand products that allow you to customize your own products. By selling proven products instead of trying to create your own is the fastest way to start your online store and a head start to success.
6. Customize the theme as little as possible
Shopify allows you to customize your theme as you want. But if your theme goes with your business idea then customizing is not required as much instead of that you can focus on customizing your store as little as possible.
Conclusion
Therefore, these 6 Shopify tips will help you to build a bigger brand name over time. And eventually, you will see to grow your sales online.